Directional Technologies, Inc. is a horizontal technology company with over 24 years experience
Founded in 1992 by Michael "Mike" and Katherine Sequino, Directional Technologies, Inc. has been advancing the environmental and utility industry for over 24 years.
Directional Technologies, Inc. specializes in effectively implementing remediation technologies with horizontal wells. Directional Technologies is an innovative and creative company that has successfully utilized Horizontal Directional Drilling technology at many projects that were originally thought to be unfeasible.
Horizontal Technology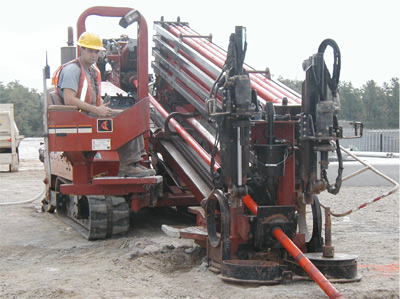 Horizontal Directional Drilling (HDD) is a steerable trenchless method of installing remediation wells and underground pipes. This established and proven method significantly minimizes site disruptions and costly site restoration.
Horizontal Remediation Wells (HRWs) can be designed and installed beneath buildings, and around active facility operations or other obstructions. In many instances, Horizontal Remediation Wells have outperformed their vertical counterparts and accelerated site closure. Horizontal soil vapor extraction (SVE) wells have effectively addressed and provide a horizontal vapor intrusion remedy. Installing horizontal injection wells for in situ chemical oxidation has allowed for larger coverage with significantly less injection points. Horizontal extraction wells have been used for plume control and capture where previously vertical installations failed. 
Katherine Sequino, CEO and principal owner of the firm, is responsible for administration, finance, and for developing new markets for horizontal drilling. Mike Sequino, Chief Technology Officer and Vice President, is the company's principal engineer and has relevant experience in the oil field, the utility industry, and the environmental industry. He is responsible for operations from design to completion.
Contact Directional Technologies, Inc. today at drilling@directionaltech.com to discuss your next directional drilling or potential horizontal remediation well project.