Horizontal Remediation Wells – Designing Horizontal Wells
Environmental remediation professionals around the country (and internationally) are rapidly learning that Horizontal Remediation Well Systems are an important "tool in their remediation toolbox". Designing and executing should be done by an experienced horizontal environmental drilling expert, like Directional Technologies, Inc. When designed correctly, Horizontal Remediation Systems can be extremely effective at achieving rapid site closure compared to vertical remediation systems.
Designing a horizontal remediation well should start with a call to an experienced environmental directional driller.  The environmental horizontal well driller will first ask for a background history of the site.  The typical questions are: how was the property contaminated, what is the contaminant, and how long has the property had this problem?  Did you have a specific application in mind for the remediation?  Any remediation technology that has been used with a vertical well can be adapted to horizontal wells. The answer to each of these questions begins before designing a horizontal remediation well.
The next step when designing a horizontal remediation well will require gathering the following information and answering a few more questions:
Revisit the remediation strategy and determine: (1) if it is feasible and (2) does our previous experience designing and installing horizontal wells provide us with ways to improve the process?
Do you have a site plan showing the plume?
What is the depth and location of the plume?
Does the site have access constraints, such as property boundaries, business activities that cannot be interrupted, buildings or areas within the buildings with security clearance that cannot be accessed or other site-specific demands?
Are there underground utilities that may affect the design of the horizontal well layout?
If the horizontal wells are being installed at a shallow depth, are there footers or foundations that need to be considered?
Then the design for the horizontal well layout begins.  The design of the Horizontal Remediation Well layout is critical to the project's success. That's why you choose an experience environmental directional driller. An initial horizontal well placement design is stretched out. This design will be tweaked and changed up until actual horizontal well installation. As an experienced environmental directional driller, Directional Technologies has adjusted or modified hundreds of horizontal well designs in the field due to unforeseen and unpredictable obstacles and circumstances.
The initial horizontal well placement design then goes through another battery of questions and a feasibility study to decide the type of Horizontal Remediation System that will be installed.  It's then that the engineers begin the design of the horizontal well screen. As experienced environmental directional drillers, Directional Technologies knows that the design of custom well screen for each horizontal well is key.
Key Elements of Designing Successful Horizontal Remediation Wells 
 1. Zone of Influence Calculations for Proper Horizontal Bore Path Design 
Horizontal Remediation Wells typically have a significantly greater zone of influence (ZOI) than vertical remediation wells. It is, therefore, the design the horizontal bore path is critical for maximizing this zone-of-influence advantage. The potential rewards? Fewer wells, lower system installation costs, and lower life cycle costs owing to more rapid site closure.
2. Engineered  Horizontal Well Screens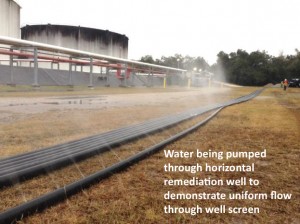 Installing a Horizontal Remediation Well involves a lot more than advancing a horizontal bore and inserting a length of perforated PVC pipe.  It is critical that each horizontal well screen be designed according to site-specific conditions and well function requirements.  Perhaps the most important horizontal well screen design element is to ensure that uniform flow is achieved over the horizontal well screen length, which can easily be hundreds of feet long in many cases. Directional Technologies has developed and successfully uses a proprietary horizontal well screen design methodology.  The companies team of experts developed this methodology over the course of decades and have proven the design's efficacy in the field at many environmental sites.
3. Environmental Directional Drilling Experience
It is critical to engage a directional drilling contractor with significant environmental drilling experience.  Horizontal directional drilling is a horizontal mud rotary drilling technique.  It is extremely important to design a site-specific drilling mud program that avoids formation damage.  Directional drilling contractors who specialize in utility bores (to pull fiber optic cables, for example) are not concerned about formation damage – they advance the bore, pull the cable and then go home. Horizontal Remediation Wells need to effectively communicate with the formation and that requires selecting (and sometimes modifying) the mud program and using effective well development techniques.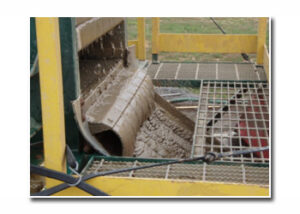 Directional Technologies has extensive experience designing mud programs, working closely with mud vendor product technical experts. For more information on drilling muds for horizontal wells, see the article The "Straight Skinny" on Bentonite-Based Drilling Muds and their Standard Practice Use in the Horizontal Remediation Well Industry under the Presentation/Article section.
In addition, well development is both an art and science.  The company has honed the horizontal well development process over the past 24 years to ensure maximum efficiency from the horizontal remediation well system.
Once the custom horizontal well screen is designed, the horizontal well placement is once again reviewed for critical components. That ensures the productivity and efficiency that the clients stipulate. The design for the horizontal remediation well placement and the design for the horizontal remediation well screen are now complete and the project is ready for the remedial construction phase.
Directional Technologies has been installing Horizontal Remediation Wells since 1993.  Our experience as an environmental directional driller has allowed us to continue to improve the efficiency of horizontal remediation wells when they are designed and installed properly.

Please give us a call to further discuss the key elements of successful horizontal remediation systems and your potential horizontal remediation well project.