AS Barrier Well
PROJECT SUMMARY
HORIZONTAL AIR SPARGE BARRIER WELL PROTECTS LAKE
Background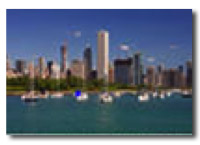 A wide chlorinated solvent groundwater plume from a legacy manufacturing operation was migrating toward and threatening an adjoining lake that is used as both a potable water and recreational resource. Remedial alternatives were evaluated and air sparging technology deployed along the length of the 1,000-foot wide plume as a migration barrier was determined to be the best solution to truncate the plume and prevent it from impacting the lake.
The Challenge Presented
Two technical approaches were available for the air sparge barrier system orientation: install a large number of in-line vertical wells with a subsurface interconnecting piping network, or install one horizontal air sparge barrier well with a 1,000-foot screen length. Feasibility and financial analyses indicated that the horizontal air sparge barrier well would not disrupt lake-related recreational activities, be less expensive and more efficient than the traditional vertical well approach. Directional Technologies, Inc. of Wallingford, CT was engaged to install the horizontal air sparge barrier well.
Directional Technologies at Work: Our Solution
The Directional Technologies team deployed to the field and successfully installed the horizontal air sparge barrier well over a six-week period during the harsh winter of 2011. Our team overcame extremely challenging cold weather winter conditions and successfully installed the horizontal air sparge barrier well within the originally established program budget. Directional Technologies used its Vermeer D80 X 100 horizontal directional drilling rig for this assignment – the D80 X 100 is capable of creating a 2,000-foot long horizontal bore. Directional Technologies has significant experience successfully installing horizontal remediation wells with screen lengths from hundreds to 1,000-feet long.
Results that Reward
A significant weakness of vertical well systems is the potential for zone of influence dead spots if the wells are not spaced properly to provide sufficient overlap. Another significant weakness is the need to install a piping network (in this case underground) to connect the many vertical wells (we note that this activity would not have been possible due to deep frost conditions). The horizontal air sparge barrier well's 1,000-foot long screen was designed to avoid zone-of-influence dead spots. We note that horizontal remediation wells do not require cumbersome interconnecting piping – mechanical equipment is connected at one location.