Bioamendment Injection
Bioamendment Injection with Horizontal Wells

A rail yard with a long history of operation in the metropolitan New York area was ordered by the USEPA to remove petroleum hydrocarbons from soils beneath multiple rail lines. Directional Technologies, Inc. installed 14 wells, crossing as many as 4 railroad tracks while the railroad continued its normal, busy operations. Hundreds of hours of down-time by the railroad and tens of thousands of yards of hazardous waste disposal were avoided by the successful installation of the horizontal well injection system.
Bio-injection via directional drilling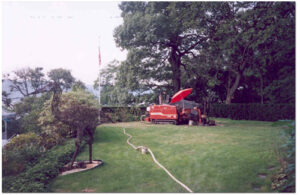 While on site in an upscale neighborhood in Westchester County NY, Directional Technologies, Inc. representatives carefully explained to residents the benefits of horizontal wells and directionally drilled beneath two residential structures for bioremediation. The well bores were drilled to specific target locations and the drill rig was then used as a delivery system for the bioamendment. The residents were extremely pleased with the directional drilling process and lack of disturbance to their well manicured properties.
Project Results: The injections worked as planned and the site was closed.