Directional Drilling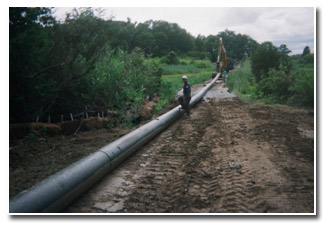 Directional drilling was invented in the 1920 and the technology was originally used in the oil field to increase oil production. In the earlier 1990's the directional drilling technology was adapted for utility installations. Directional bores have been installed for pipelines carrying oil, natural gas, petrochemicals, water, sewerage and other products. Also, directionally drilled conduits have been installed to carry electric and fiber optic cable.
Besides crossing under highways, railroads, airport runways, shore approaches, traffic islands, areas congested with buildings; directional drilled installations have been made under rivers and waterways, pipeline corridors and protected wetlands.
Directional borings have the least environmental impact of any alternate construction method. Directional drilling technology also allows conduit placement under obstacles and provides maximum protection and minimizes maintenance costs. During installation normal business operations are not interrupted. Directional borings have a predictable and short construction schedule.
Visit our other pages in this directional drilling section to lean about the Benefits, Installation Methods, the Directional Drilling Equipment, Limitations, and Performance